Skip to Main Content
It looks like you're using Internet Explorer 11 or older. This website works best with modern browsers such as the latest versions of Chrome, Firefox, Safari, and Edge. If you continue with this browser, you may see unexpected results.
Let's celebrate Carnival video - BBC
Let's celebrate Carnival video - BBC

On Learn360 subscription database. Password needed for use off-campus.
From Chinese New Year to Christmas, "Let's Celebrate" looks at religious and cultural festivals from a child's perspective. Each episode visits a different UK community to witness a family dressing up, decorate the house, prepare food, or exchange gifts. A musical or dramatic performance tells the story behind the festival. In Part Ten, Miriam introduces viewers to Caribbean Carnival rituals and customs, including making a costume, preparing food, and dancing in the street parade.
Encyclopedias
Passwords needed if using off-campus.
Carnival around the world
Carnival in Poland
The Polish Carnival season includes Fat Thursday (Polish: Tłusty Czwartek), when pączki (doughnuts) are eaten, and Śledzik (Shrove Tuesday) or Herring Day. The Tuesday before the start of Lent is also often called Ostatki (literally "leftovers"), meaning the last day to party before the Lenten season.[citation needed]
The traditional way to celebrate Carnival is the kulig, a horse-drawn sleigh ride through the snow-covered countryside.
https://en.wikipedia.org/wiki/Carnival#Poland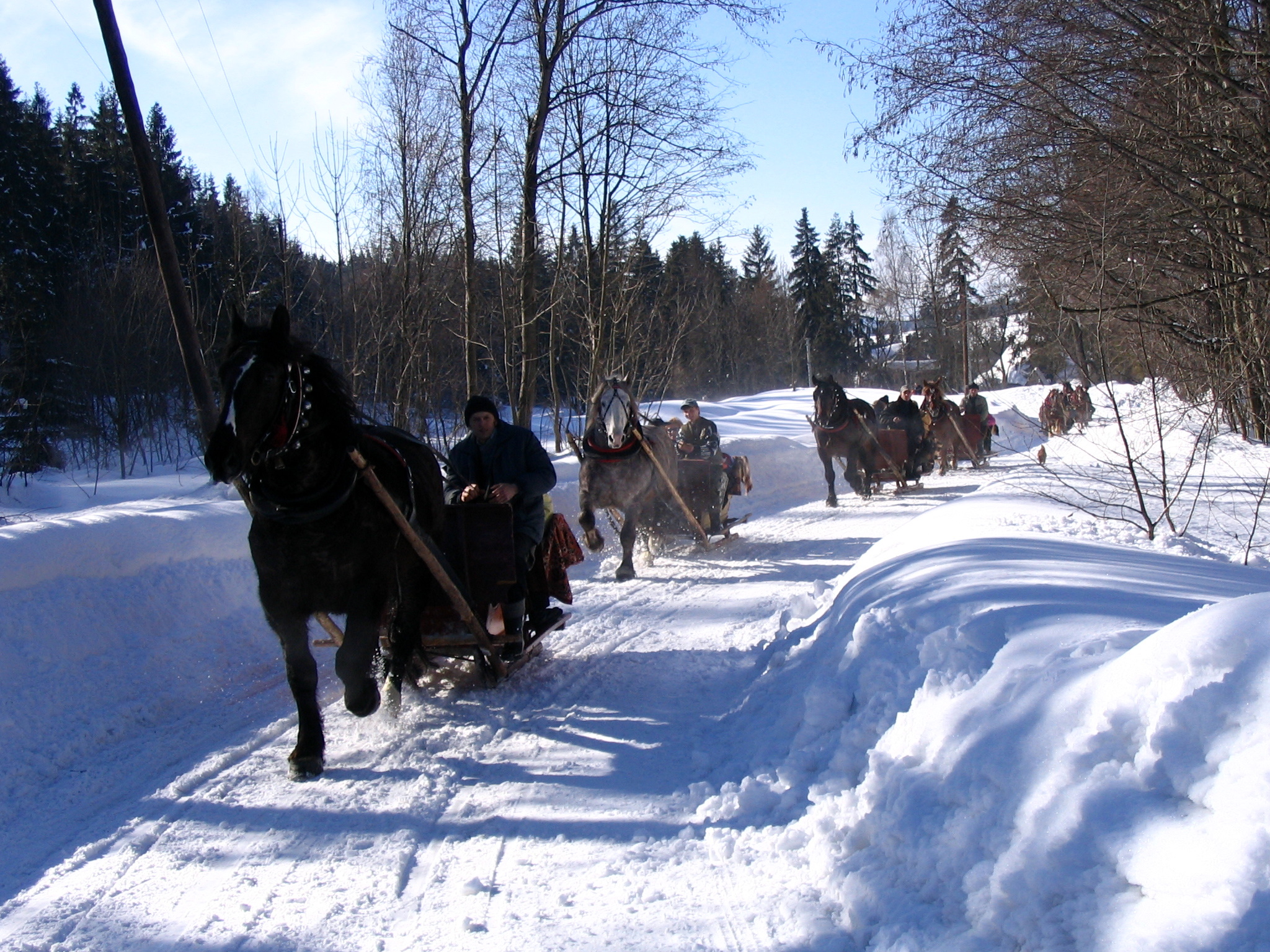 Robert Wójtowicz, Nowy Targ - www.fotografie.nowytarg.pl
The kulig was a sleigh ride party organized among the Polish aristocracy. Kuligs usually began the week before Ash Wednesday and continued right up until midnight of Ash Wednesday, when all good times were supposed to stop. https://goo.gl/9iQqDR
https://commons.wikimedia.org/wiki/File%3APaczki_-_stos.JPG
Some Americans celebrate Mardi Gras or Fat Tuesday. In Poland, however, festivities begin almost a week earlier, on Fat Thursday. Poles say that the festivities start earlier to give them more time to enjoy the last days before Lent, which strictly forbids loud parties and meat dishes. In truth, "Tłusty czwartek" started in Poland long ago when Thursday was the traditional day for over-eating before Friday's fast. On Tłusty czwartek, Poles stuff themselves with "pączeks" while on the following Tuesday, known as Fat Tuesday throughout the world and the last day before the official start of Lent (Ash Wednesday), Poles dance and party to burn off calories and have fun before the lenten season of abstinence.
https://goo.gl/9iQqDR
On Shrove Tuesday, young men dressed up in animal costumes (as a goat, a bear being led on a straw rope, a horse or a stork) and, along with a variety of other masqueraders, they would parade through the village, accompanied by music....Sometimes, people would dance until dawn, or someone would bring out a large herring and sing a song of good-bye to meat and carnival time. (https://goo.gl/9iQqDR)
Mardi Gras and Carnival
Mardi Gras and Carnival

by

ISBN: 9780778747550

Publication Date: 2009-08-01

Put on a mask and join the street party for Mardi Gras. Learn all about this colorful New Orleans holiday, where people enjoy food and fun before the beginning of Lent, a period of reflection and giving up things we enjoy. Explore the history of Mardi Gras, and Carnival, and all its different customs taken from around the world!